UPDATE 12/19/17: Anthony Rinaldi on 1010 WINS News Radio: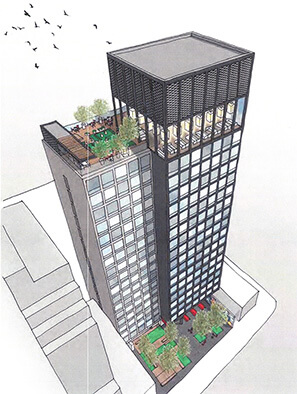 NATION'S LARGEST MODULAR HOTEL AT 189 BOWERY DEBUTS AHEAD OF GRAND OPENING IN NYC'S NEWEST BOOMING NEIGHBORHOOD
WHAT: Topping Off ceremony for the new CitizenM hotel, now the tallest modular constructed hotel in the world
WHEN: 12:00 Noon Tuesday, Dec. 19, 2017
WHERE: 189 Bowery, New York, NY
Contact: Joshua Zoppel (646) 946-1571
New York (NY) – New York City and State officials will join members of the Rinaldi Group at 12:00 noon on Tuesday, Dec. 19th, 2017, to celebrate completion of the new CitizenM Bowery – the nation's largest modular-construction hotel project ever. There will be an official topping off ceremony to mark the finish of the last floors of the hotel.
The high-rise 300-room hotel was built through an extraordinary process. Sealed units containing fully-finished hotel rooms were factory-made and stacked together. The rooms were shipped in 210 pieces to New York. The Rinaldi Group is the project manager.
"We are extremely proud of the work we have done on the citizenM Hotel," said Anthony Rinaldi, chief executive of the Rinaldi Group. "The building is state-of-the-art and will be the forerunner of similar types of structures in the future."
The modular-construction process, popular in Europe and gaining in use throughout the United States, allows for faster building – generally about half the time as for traditional construction. The number of truck deliveries is also cut by about half as well, thus significantly lowering the impact on the surrounding neighborhood.
The new hotel is considered to be the "Crown Jewel" of the Lower East Side which is quickly becoming one of Manhattan's most vibrant neighborhoods. With NYC predicted to see a record 61.8 Million tourists in 2017, it is expected that business travelers and tourists alike will come from all around the world to enjoy the many amenities of NYC's newest and hippest hotel with its international vibe. CitizenM will offer an exterior and interior rooftop bar and lounge called CloudM with sweeping 360 degree views of the Manhattan skyline. There will also be a fitness center, a double-height lobby, lounge and café at the property.
Read more about this project here…
189 BOWERY
NEW YORK, NY
VALUE
$63,674,475
SIZE
20 Story, 300 Guestroom hotel, rooftop bar
ARCHITECT
The Stephen B. Jacobs Group, P.C.
STRUCTURAL ENGINEER
DeSimone Consulting Engineers
MEPS ENGINEER
Edwards & Zuck Consulting Engineers, PC
GEOTECHNICAL ENGINEER
RA Consultants LLC
DEVELOPER
OSIB-BCRE Bowery Street Holdings LLC