Commercial Observer: NYC's Embrace of Modular Construction Is Slow but Steady
From Commercial Observer:
The world's tallest modular hotel opened in New York last fall on the Lower East Side. An even taller modular hotel is arriving in NoMad this fall to steal its crown. And in March of this year, the city assigned the first modular affordable housing project as a test for possible future adoption.
All of that would indicate that after years of eager hype and promises, modular construction may finally be accepted in New York City.
Advocates have argued that the benefits of modular are particularly well-suited for congested urban areas like the Big Apple, since the primary benefit is a dramatic reduction in construction time. Modular is a concurrent process, with the modules built in a factory while the foundation is laid on-site, which reduces costs and disruption to the surrounding neighborhood. In addition, New York is a high-cost labor market that could benefit from offsite manufacturing.
And yet, modular remains in the experimental phase, with each new project proclaiming itself a first.
In June 2018, the city's Department of Housing and Preservation released a Request for Proposal mandating modular construction for an affordable housing development in East New York. The move was in keeping with the city's promise, made in the mayor's Housing 2.0 plan, to encourage the adoption of modular construction in the affordable housing space.
"Doing modular is a really important, long-term strategy for the city," then-Deputy Mayor Alicia Glen told The Wall Street Journal after the project was awarded.
"We're pushing the envelope here to see what's possible for the future of affordable housing development in New York City, by testing this latest building trend that will help us create new affordable homes faster and more efficiently," a spokesperson for HPD said.
In March, the project was awarded to a developer group led by Thorobird Companies, which will work with FullStack Modular, a modular manufacturer based in the Navy Yard, and Think! Architects, which is building three modular luxury condo developments on the Lower East Side.
"Modular has been proven around the world to be a technique that saves time and money," said Thomas Campbell, the CEO of Thorobird. "We just need to get better at it in the context of affordable housing."
While the city's housing officials are supportive, construction firms and developers have to navigate the city's building regulations, which were designed without modular in mind.
"The problem from a construction perspective is not a modular problem," said Roger Krulak, the CEO of FullStack and former Forest City Ratner executive, of the city's byzantine regulations. "I think the process by which we get permitted in any city is broken."
In New York, one problem he's encountered are the Department of Transportation requirement for wide loads, which require an escort, and often have to be transported during nighttime hours. Since pods are usually wide-load, that drives up the cost and flexibility of transporting them.
But Danny Forster, of the eponymous firm Danny Forster & Architecture, puts the onus on the architecture and engineering industries rather than city agencies.
Forster is designing the AC Nomad, the Marriott-branded hotel at 864 Sixth Avenue that will become the world's tallest modular hotel once completed. He said that modular transforms every aspect of the design and construction process, which requires buy-in from every stakeholder involved. "It's like a cruise ship turning," he said.
The decision to build the hotel modularly was only decided once the design process had begun, Forster said, because of its inherently repetitive structure. The base of the building contains all the amenities and common space, while the fourth floor and above contains only guest rooms. "The building at that point becomes very rigorous and symmetrical," Forster said.
The hospitality sector has been the first to embrace modular, with Marriott in particular taking a pioneering role. In 2017, they rolled out an initiative to use prefabricated pods in fifty hotels across the nation. The Netherlands-based CitizenM, whose hotel on 189 Bowery is currently the tallest modular hotel, constructs many of their worldwide hotels in that manner.
The general contractor on the project, the Rinaldi Group, spent a week in London shadowing the construction team that was in the midst of stacking the pods for CitizenM's hotel across from the Tower of London.
The site location was above an Underground station, so the work had to be done at night when the traffic dwindled.
"We would have to stay up through the night to shadow them to see how the units were put together," said Anthony Rinaldi, the CEO. It felt a lot like New York, he said.
It was Rinaldi's first modular project, and it was a learning experience that's paying off. Since the hotel opened in the fall, Rinaldi's been fielding requests from developers, architects and even lenders to tour the site or to work on new projects.
While other cities, including San Francisco, Baltimore and Boston, have experienced resistance to modular construction from unions, in New York the response has been muted.
"I didn't experience the amount of resistance [from unions] that I thought we would otherwise have seen," Rinaldi said. He speculated that it was because modular hasn't hampered union work at all during a time of construction frenzy.
"Right now, there's such a boom in construction and development, I think the unions have been as busy as everyone else," Rinaldi said. "As you start seeing more modular coming out, you will absolutely see more resistance coming from the unions."
FullStack, the only modular manufacturer in the city, is a union shop. Krulak said that more than just employing union worker, his factory is a training ground as well.
"The union looks at us as a feeder group or a job training program," Krulak said. "In my view, we're not doing anything but filling a definitive need for underemployed workers, and a diminishing highly skilled workforce."
A final issue hampering that could potentially be the growth of modular is public perception. Danny Forster said that it's a mistake that the "modular brand is paired with pods" since it is a transformative construction method, rather than a style of design. "Modular buildings don't have to be read as a series of discrete stacked boxes," Forster said. "It doesn't have to be architecturally represented."
Whatever the obstacles, almost everyone interviewed for the story felt that the use of modular would increase, either in specific use cases, or as a transformative movement in construction philosophy.
"It's the future of construction in the city," Rinaldi said.
Read more from Commercial Observer…
ENR 2019 Global Best Project - Residential/Hospitality: CitizenM…
http://rinaldinyc.com/wp-content/uploads/2019/07/ENR-2019-global-best-project-sm.png
630
1200
Tim Hurley
http://rinaldinyc.com/wp-content/uploads/2016/02/The-Rinaldi-Group.png
Tim Hurley
2019-07-10 21:36:20
2019-07-10 21:37:21
ENR: CitizenM Bowery Hotel Awarded 2019 Global Best Project Residential / Hospitality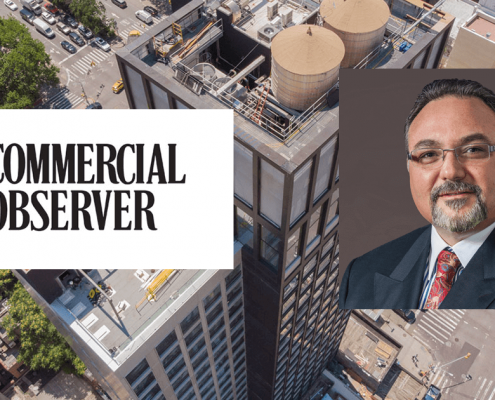 Anthony Rinaldi: "It's the future of construction in the city,"
http://rinaldinyc.com/wp-content/uploads/2019/06/anthony-rinaldi-commercial-observer-sm.png
630
1200
Tim Hurley
http://rinaldinyc.com/wp-content/uploads/2016/02/The-Rinaldi-Group.png
Tim Hurley
2019-06-11 18:59:59
2019-07-03 18:15:15
Anthony Rinaldi in Commercial Observer: NYC's Embrace of Modular Construction Is Slow but Steady